Materials you will need: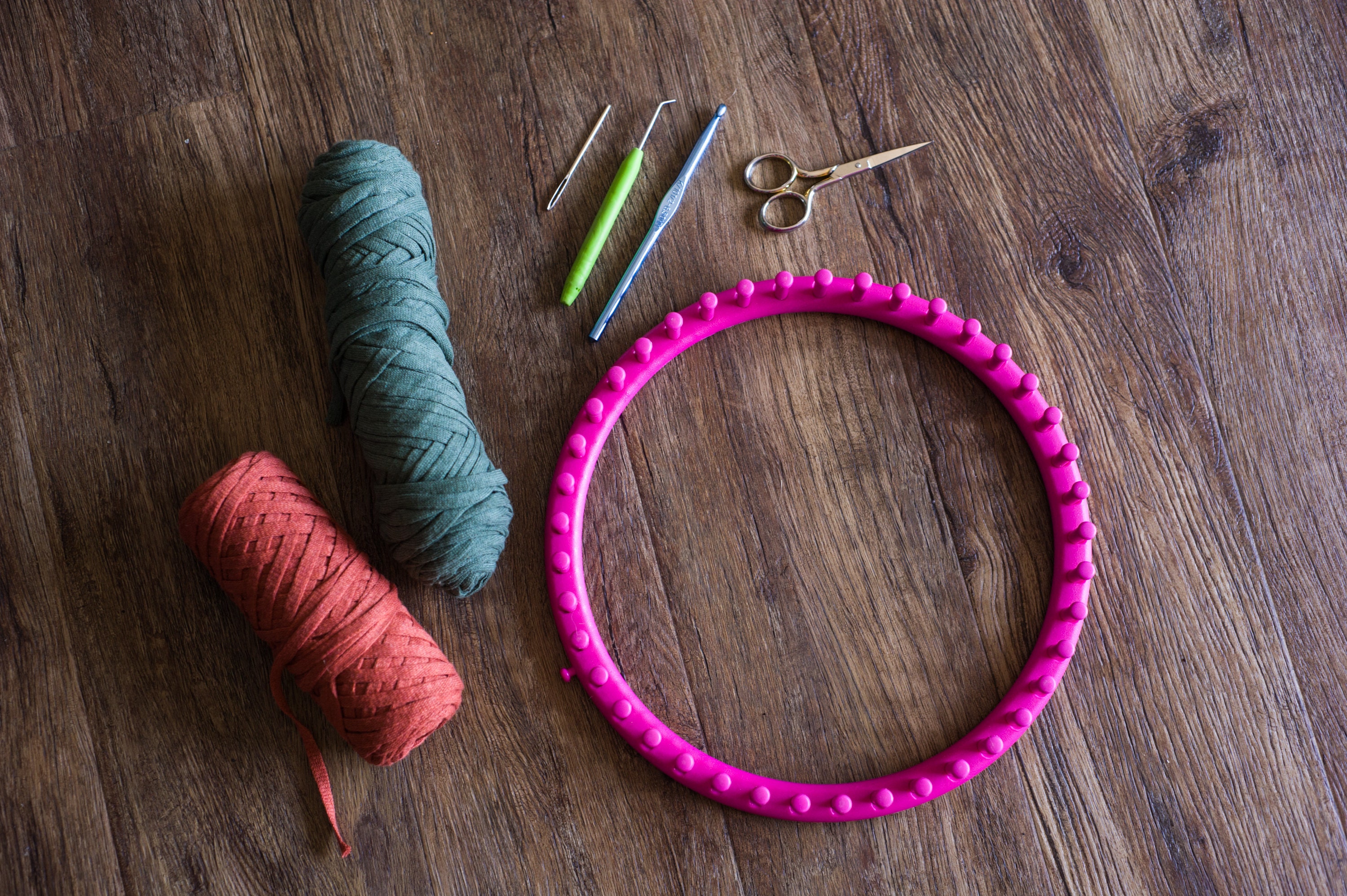 11.5" knitting loom - Quick Knit knitting loom by Loops and Threads featured in photo
Hook for loom
1 skein of orange yarn and 1 skein of green yarn - Mixtape Yarn by WoolAndTheGang featured in photo
 [tape yarn or fabric yarn is ideal but any type of chunky yarn will do]
Scissors
Wool needle
Measuring tape
6.5 mm crochet hook to crochet leaves [optional]
Step 1 - bag 
With orange yarn: start by wrapping your yarn around the single peg on the side of your loom (anchor peg) to hold it in place as you work around. With pegs facing up you will begin by working around the first peg to the left of the anchor peg (peg 1). With your working yarn on the inside of the loom wrap your yarn around peg 1. Continue to work around each peg consecutively clockwise, making sure that the connecting yarn is always on the inside of the loom.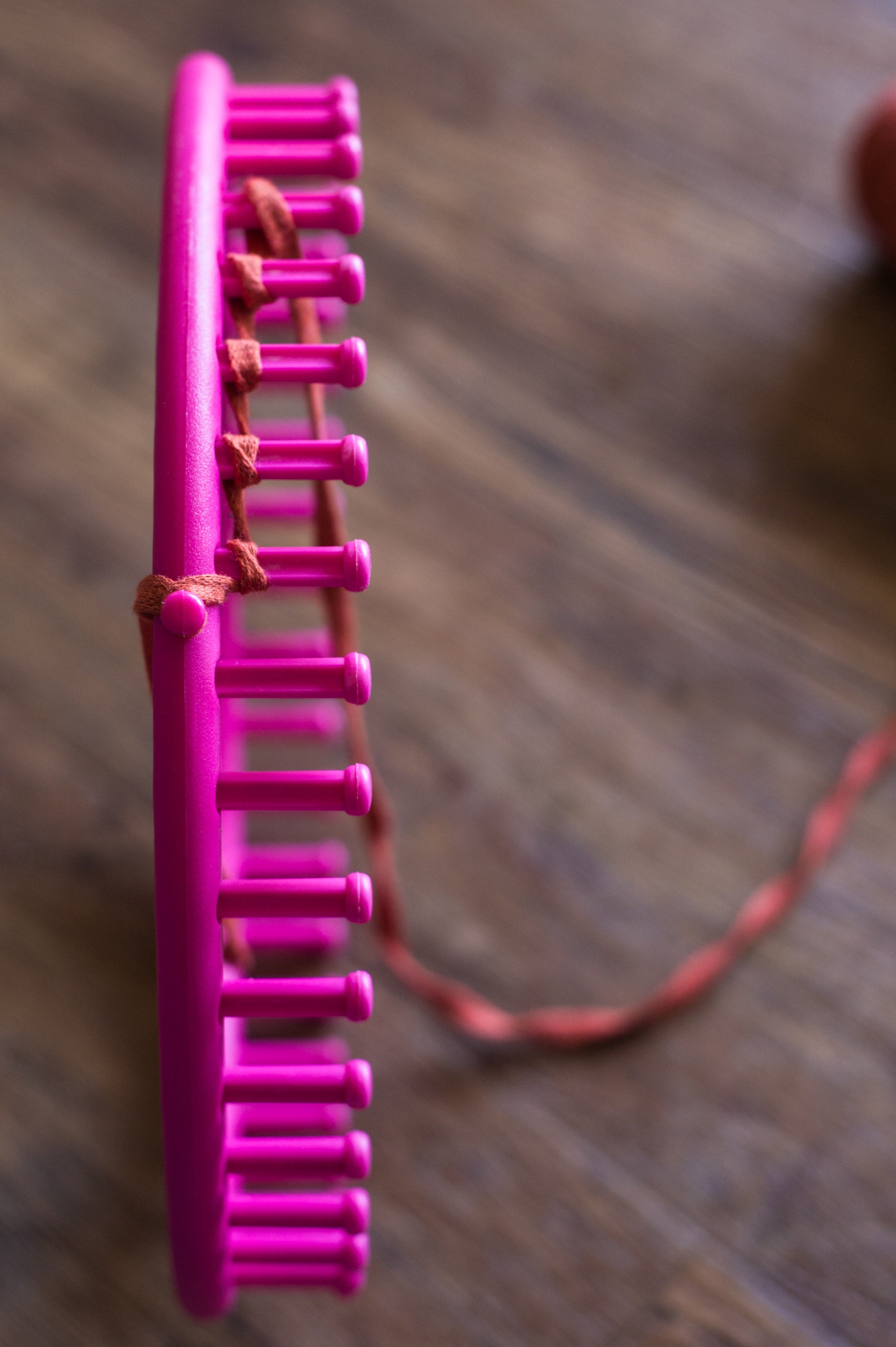 Work your way around the loom twice, so that you have 2 loops on each peg of your loom. Wrap your working yarn around the anchor peg to hold it in place.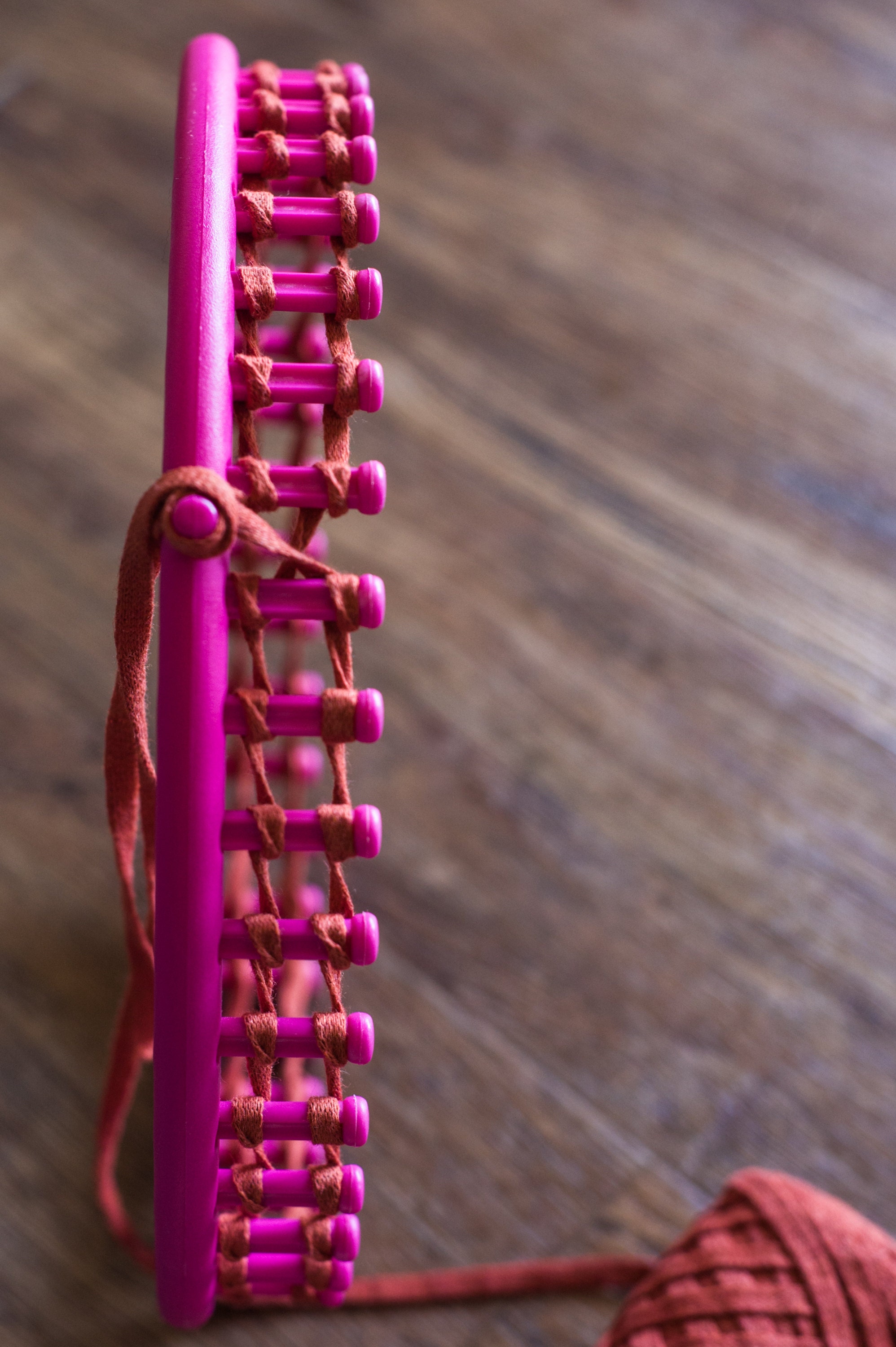 Starting with peg 1 use your hook to pull the bottom loop over the top loop and off the peg. 

Work around to complete 1 row.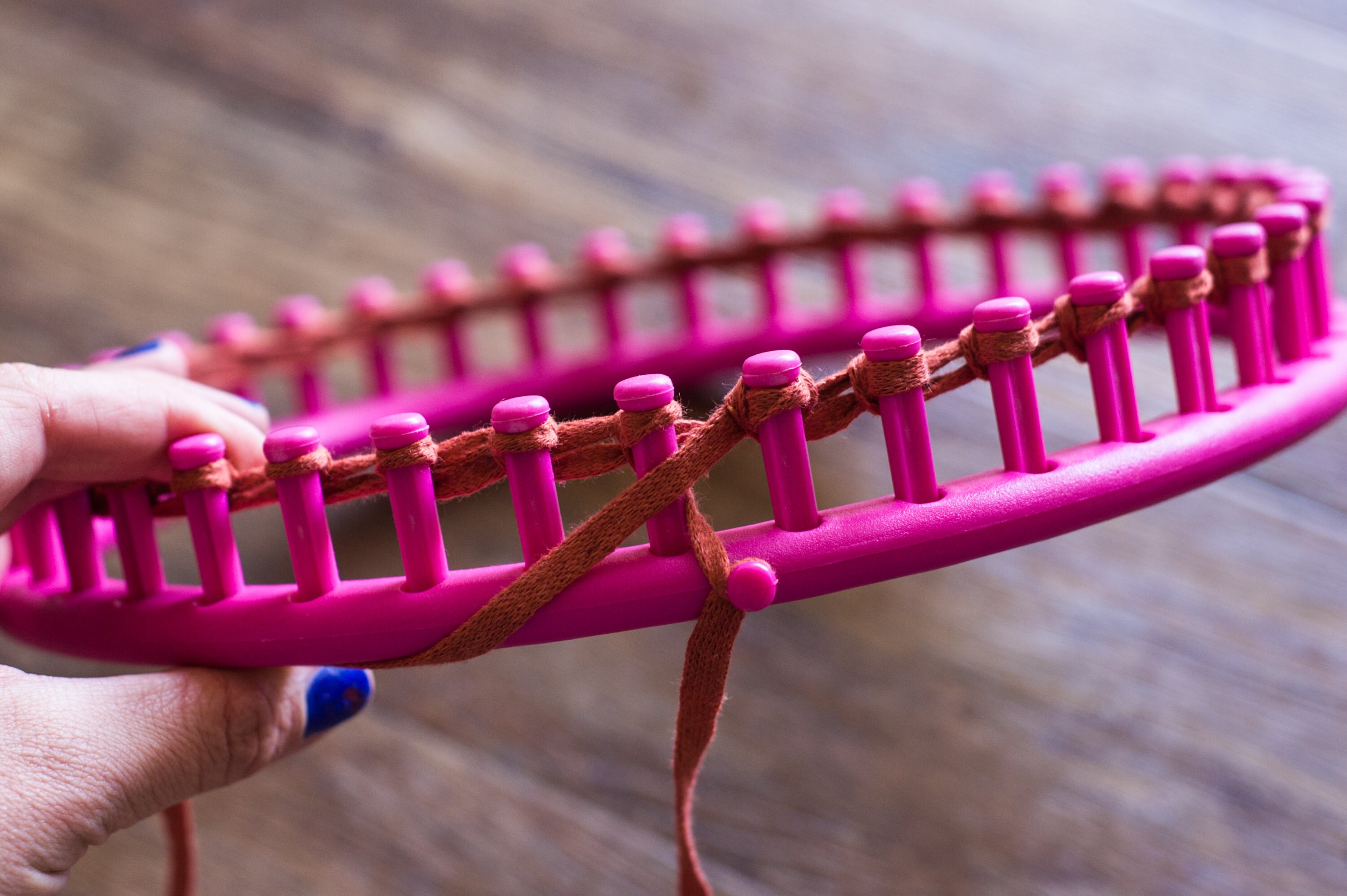 Repeat this process for 40 rows. 
When you are ready to take the work off the loom, cut the working yarn leaving a tail at least 12 inches long. Thread your yarn needle onto the tail from the working yarn. Using the needle in a similar fashion to the hook slide it under the loop on peg 1 and thread through the loop as you pull it off of the peg. 
(note that photos below DO NOT show 40 rows complete

Continue until piece is completely off the loom. Pull the hole closed and sew shut.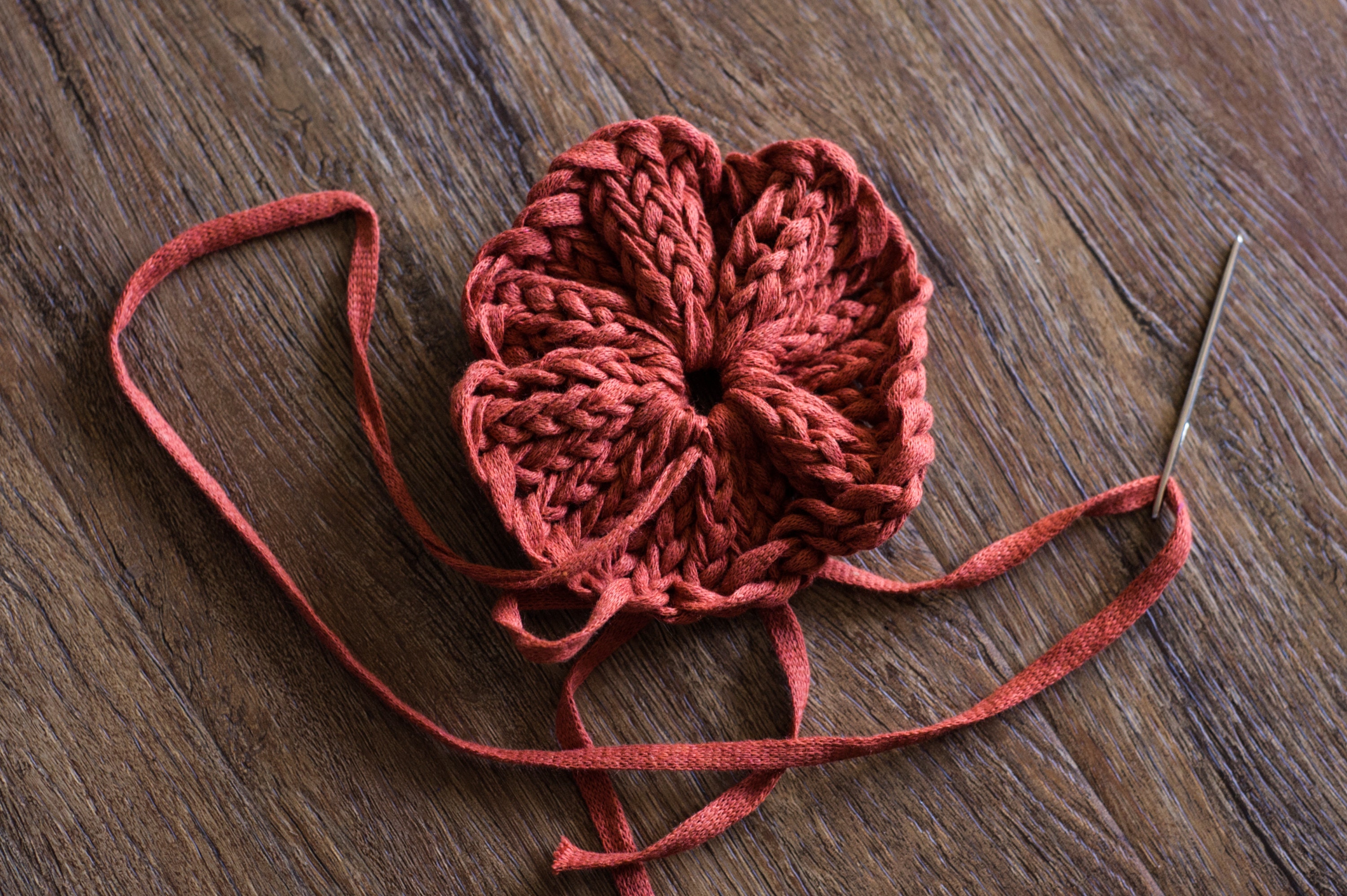 Finished piece will look like this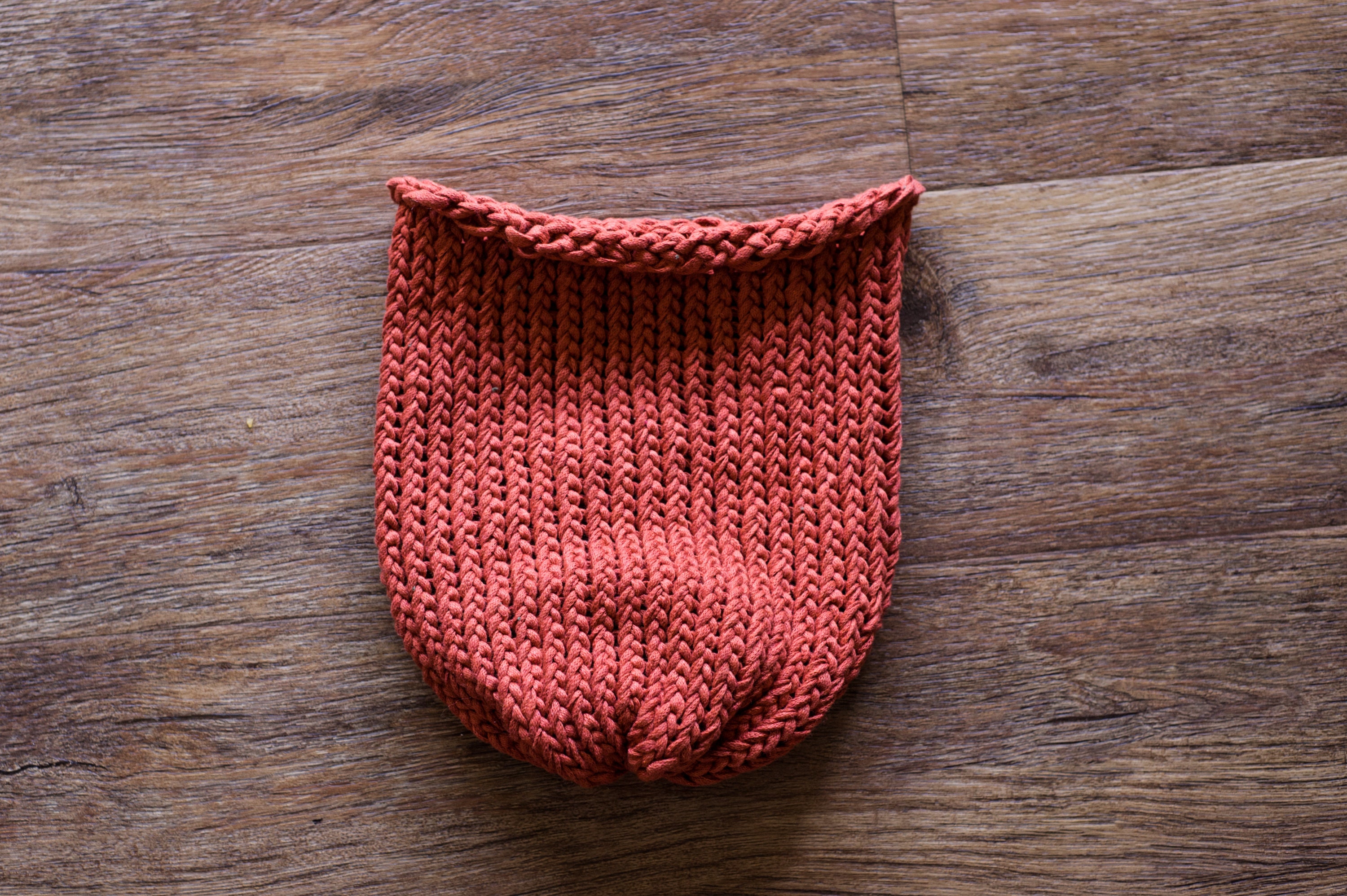 Step 2 - drawstring and strap
With green yarn: 
Drawstring-
cut 3 pieces ~ 30 inches in length  
knot pieces at top 
braid together
knot again at bottom 
Strap-
cut 6 pieces ~ 54 inches in length 
knot leaving ~ 6 inch tails
braid pieces together 
knot at end leaving ~ 6 inch tails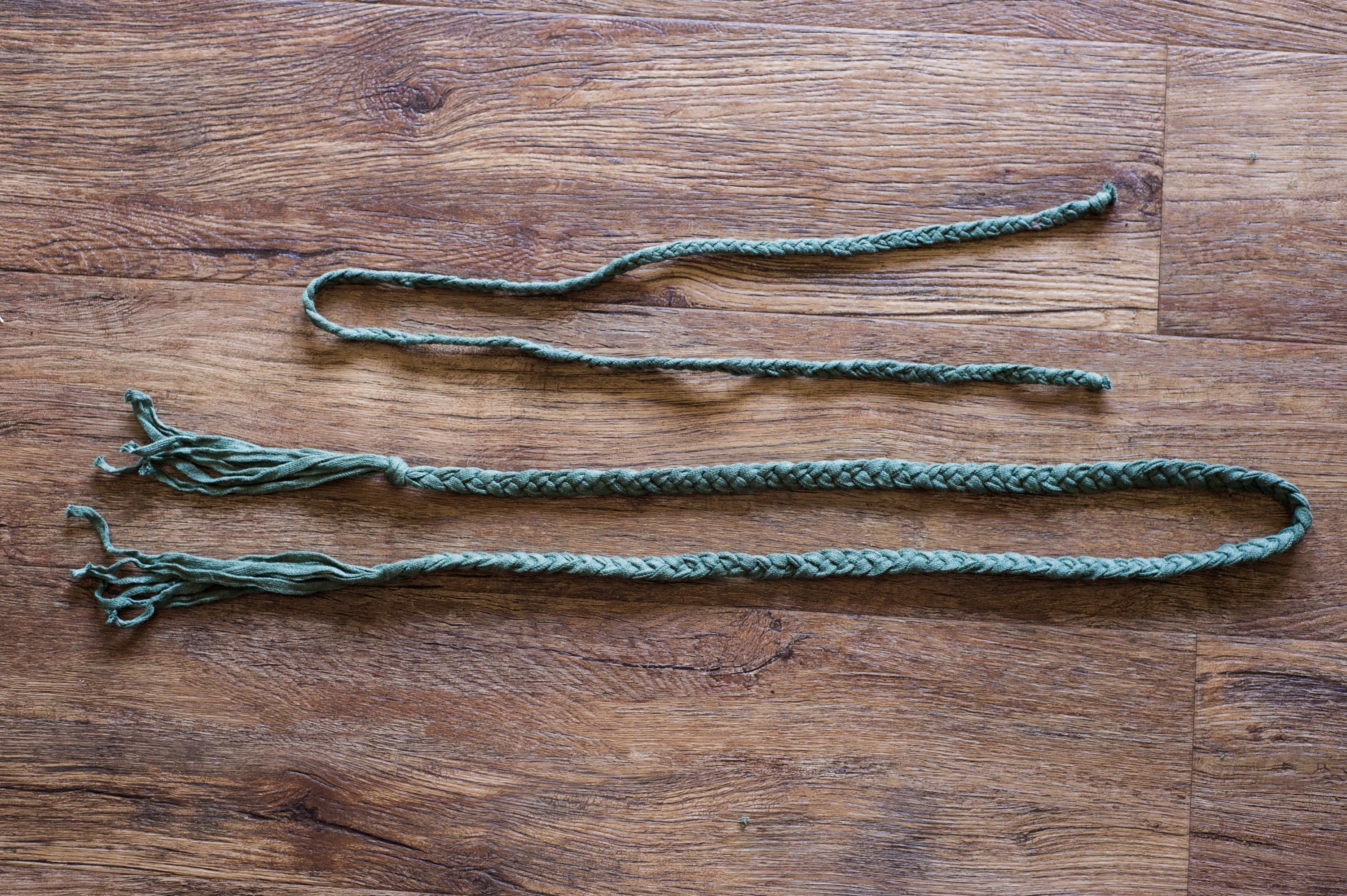 Step 3 -optional crochet leaf 
With green yarn:
chain 7
single crochet in second chain from hook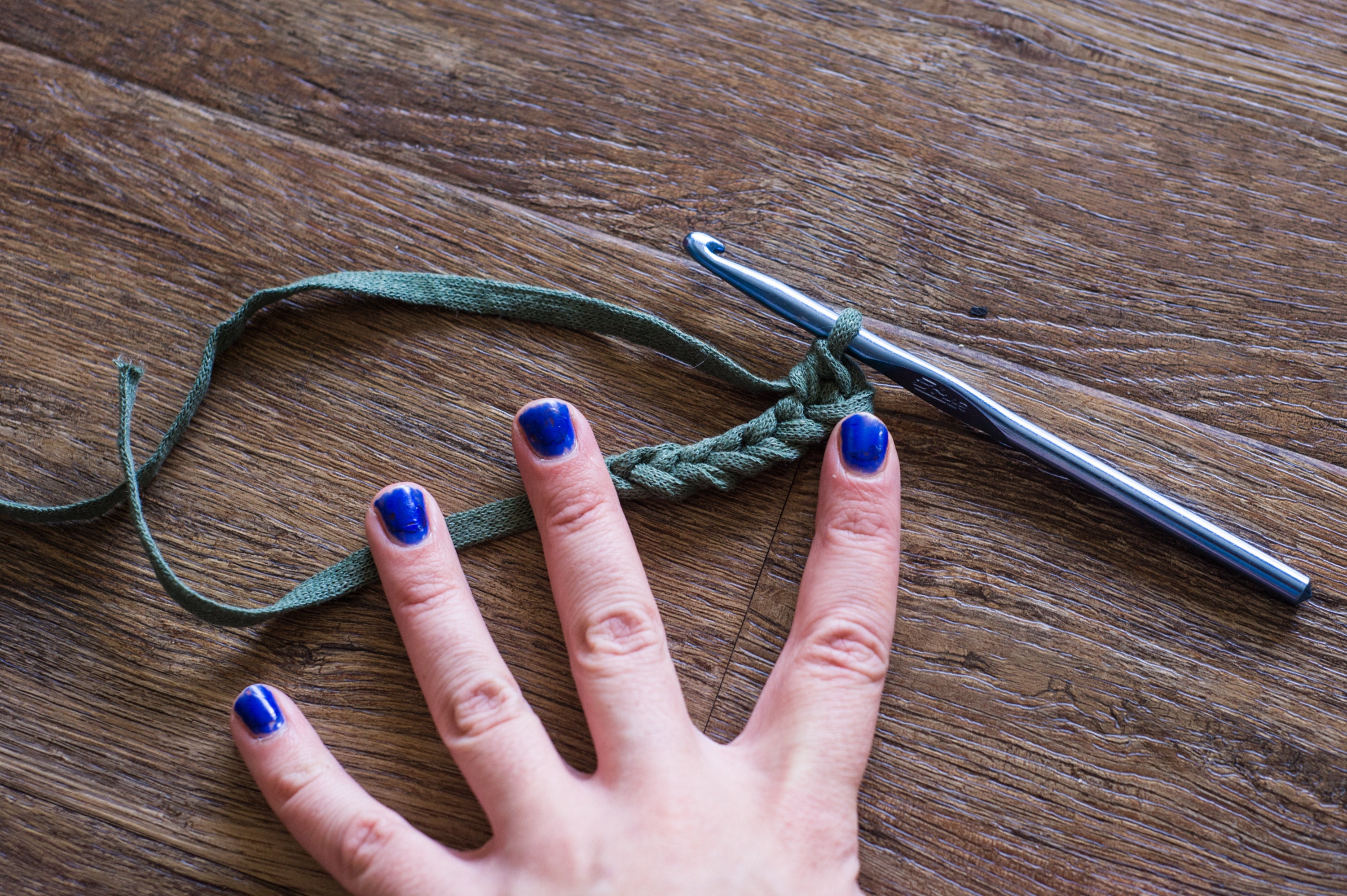 single crochet in next 2 st, half double crochet in next st, 2 double crochet in next stitch, 3 double crochet in last stitch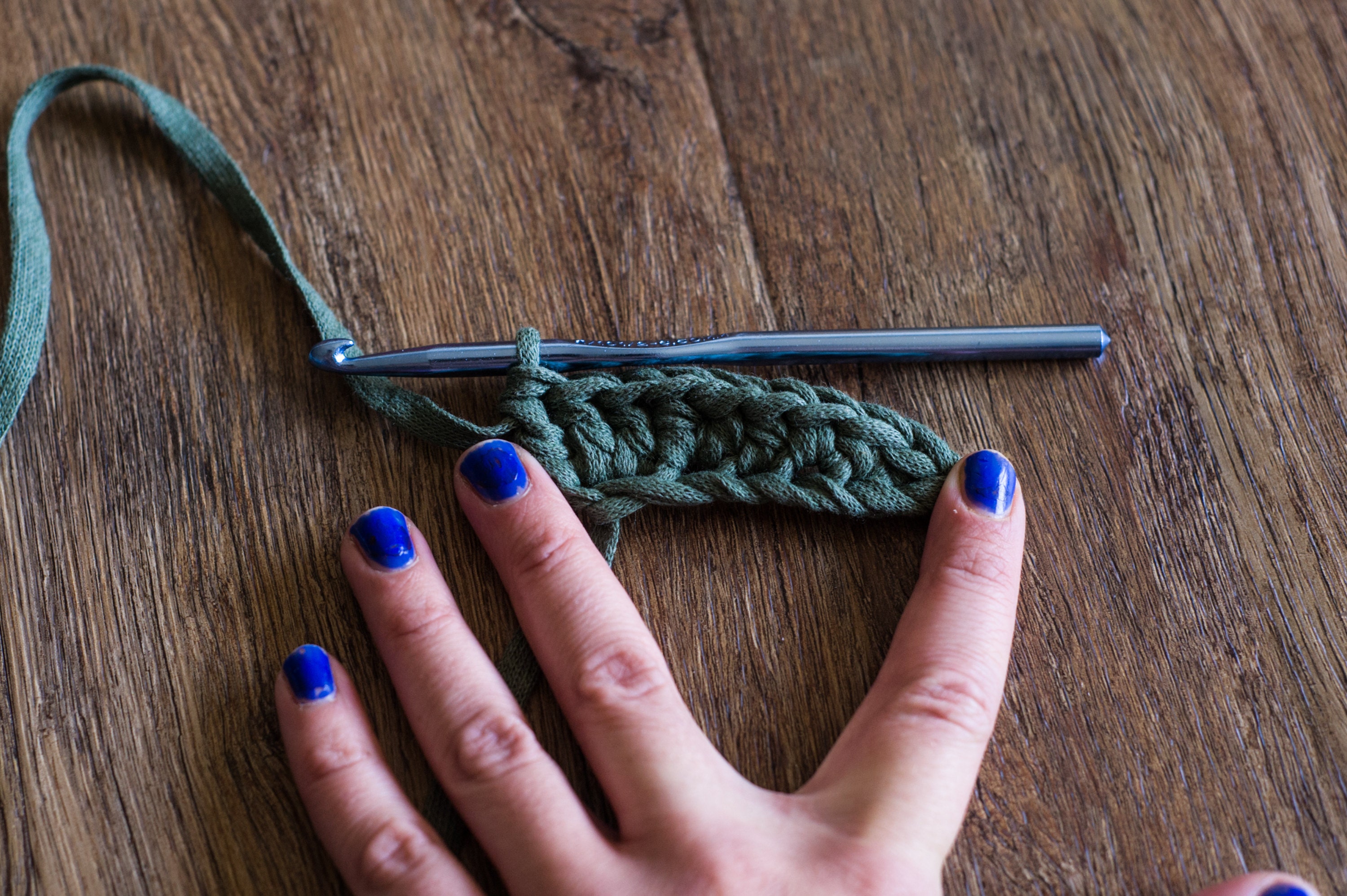 Rotate (DON'T FLIP, just turn to work down the other side of the chain)
3 double crochet in first stitch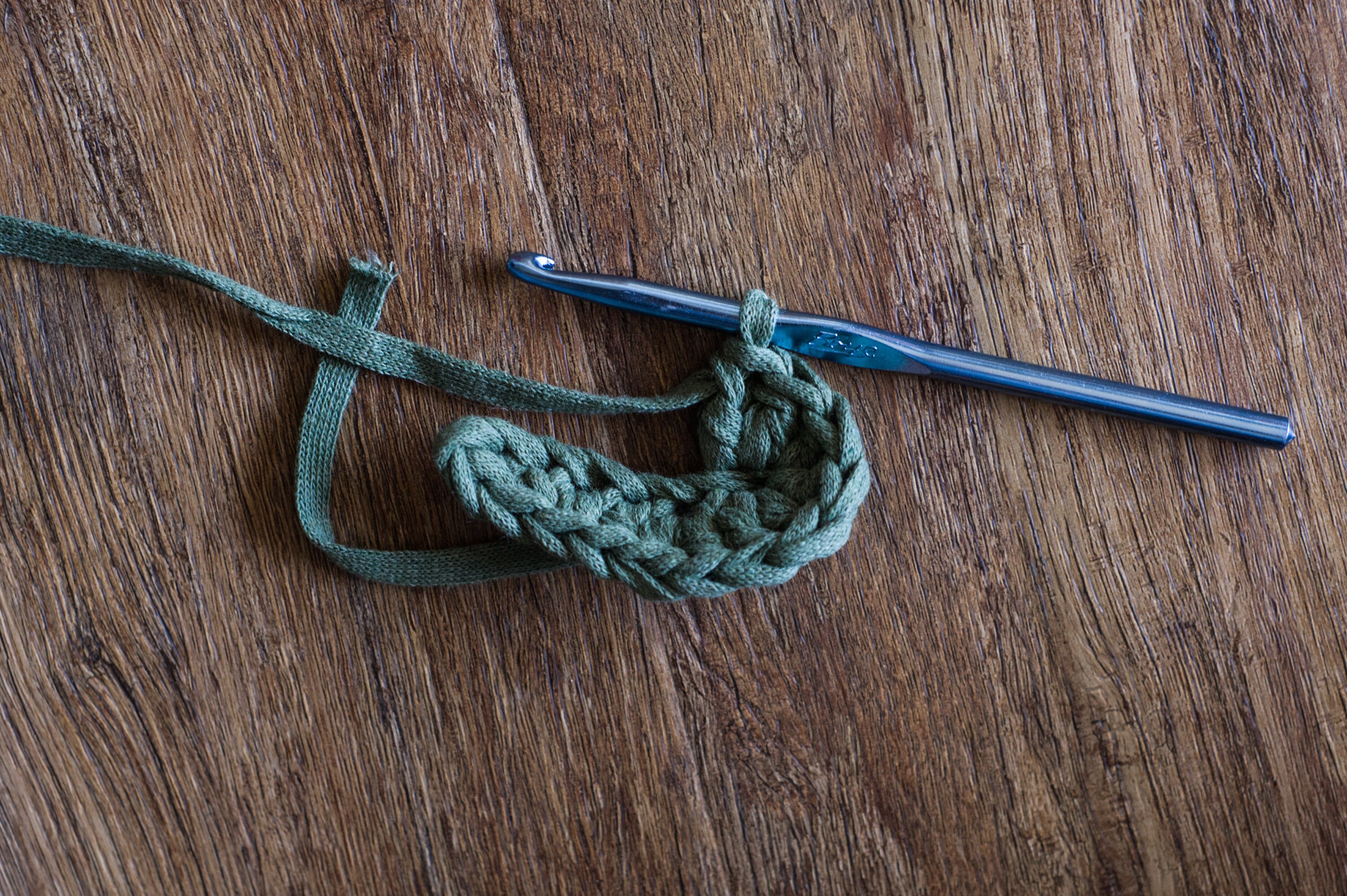 2 double crochet in next stitch, half double crochet in next stitch, single crochet in next 3 stitches. 
Weave ends in

Step 4 - assembly
Inserting the drawstring (30" braid) from the outside to inside (so that the tail will be outside the bag) weave the drawstring through every other loop around the opening of your bag 
Work around and end with both ends OUTSIDE the bag (if you weave in every loop or every third loop at some point to end this way that is okay)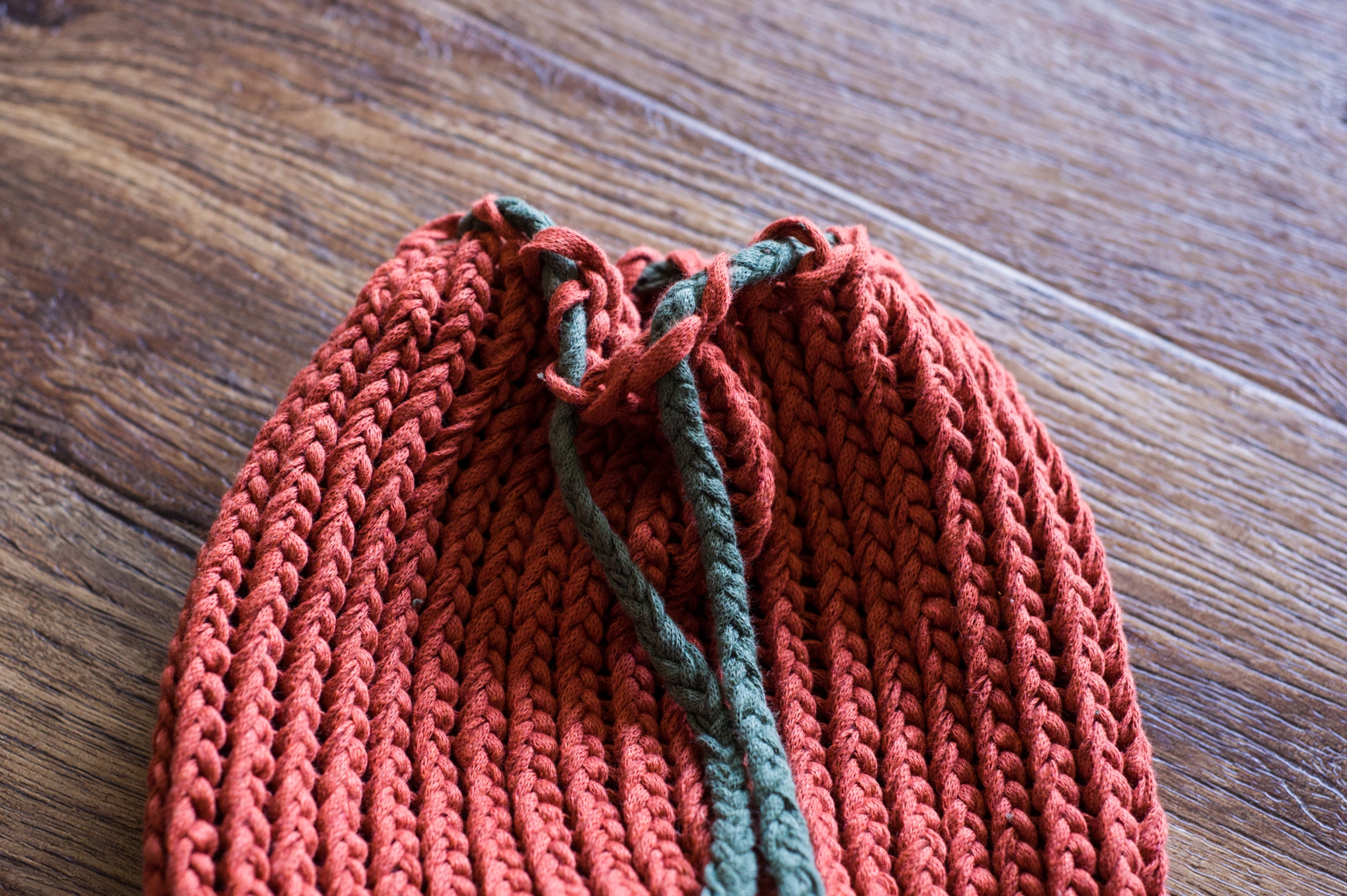 Insert the ends of your drawstring through two of the spaces between double crochets of your leaf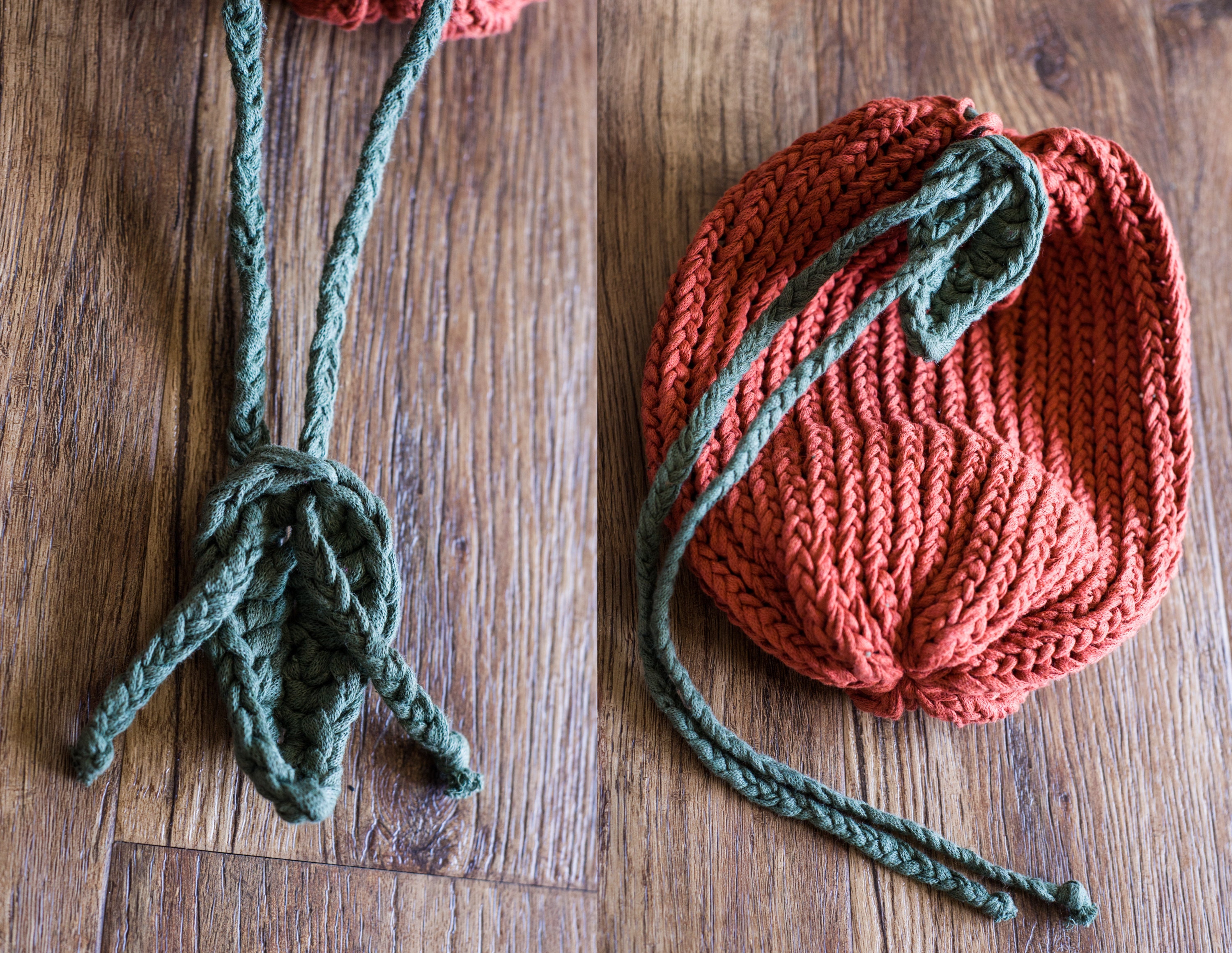 Open bag up with the draw string in the center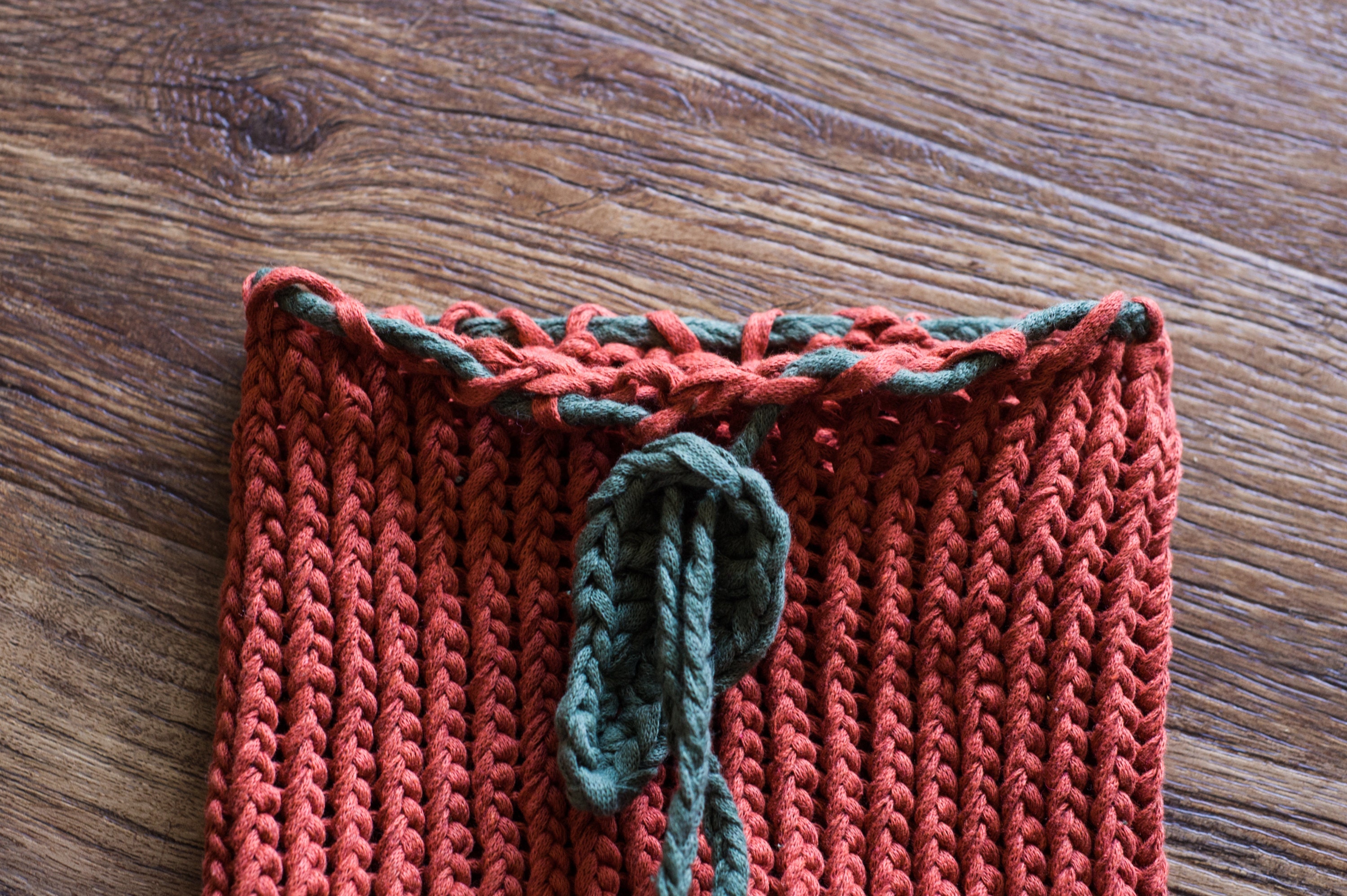 Take your strap (54" braid) and at one end split the 6" tails into 2 piece (3 tails in each). On one side of your bag pick out 2 side by side stitches 1 row from the top and push the tails through so that the knot is inside the bag.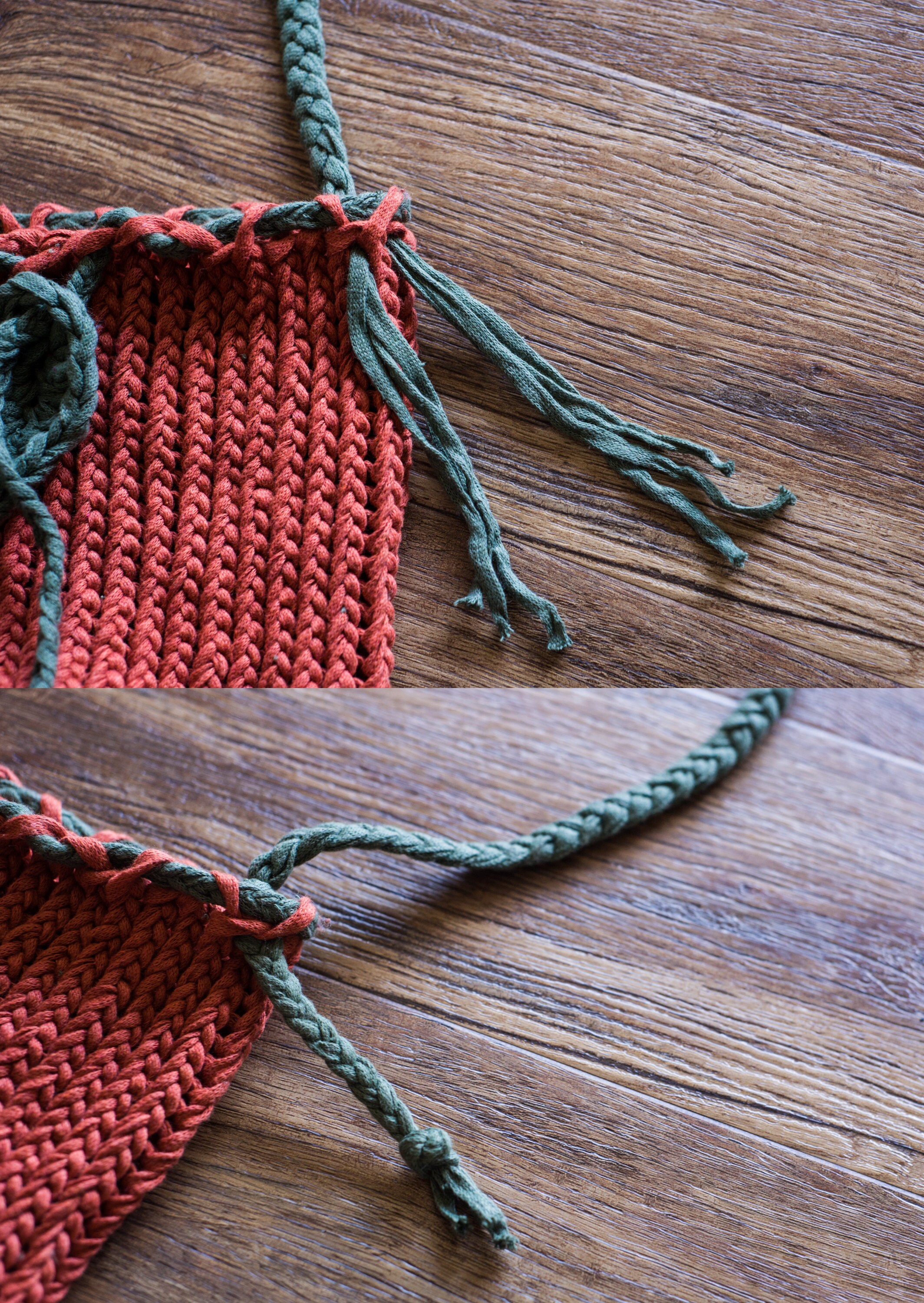 Braid tails together to secure strap and knot at the end. 
Repeat on the other side  (I didn't measure to find exactly where to place straps but you can count stitches to make them exactly even if you want)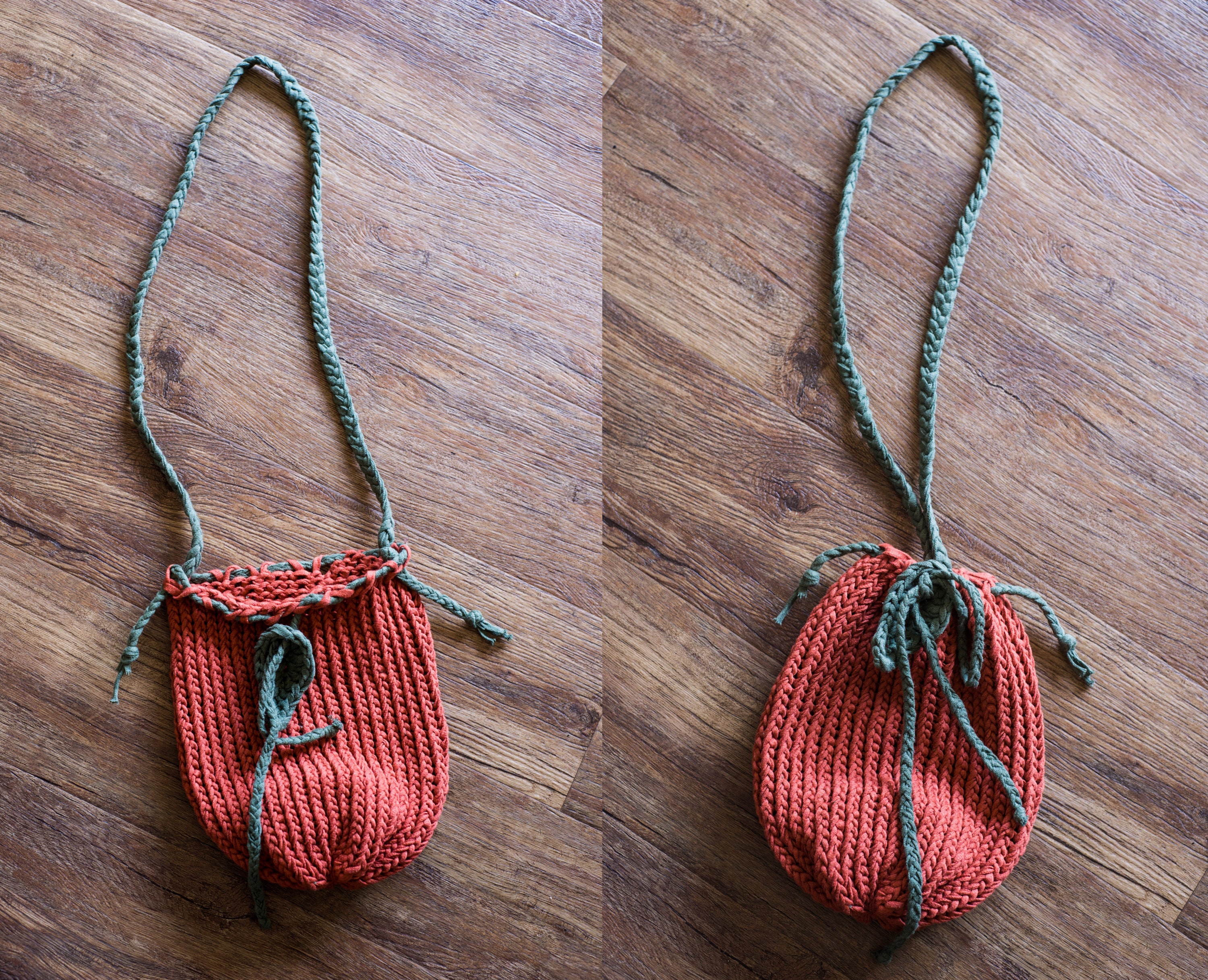 Voila! you are done! 
Customize by adding more leaves or splitting braids into more smaller ones to make more "vines", have fun with it!